Tonight's meeting—May 7th— is at Royal High School Pinewood Derby Car building
Just a reminder that our troop meeting tonight (*May 7th) will NOT be at NewHeart...nor will it be at our regular time.  One of our incredible Trail Life Dads— Mr. Sorenson — who is the woodshop teacher at Royal High School, has opened up the Royal woodshop to us to build our Pinewood derby cars!
WOODSHOP LOCATION:
Royal High School is at 1402 Royal Ave, Simi Valley, CA 93065.  The woodshop is off the West parking lot of Royal's campus(the back of the parking lot). The woodshop is in Room 10-1. 
While we will have access to the bandsaws and all tools— this does present some "issues" we need to be aware of.  First— we will need 1:1 Dad supervision or help for the boys working on the tools— we don't want any accidents or horseplay while in the shop.  Second— we will not all be able to arrive and work at the same time in the shop.  For this reason, we will have Staggered arrival times for the various patrols— and we're aiming to get each patrol in and out in about 30 minutes.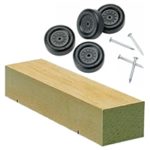 Derby Kits are provided. All cars will be built from the same "Basic" pinewood derby car— but you can customize to your hearts content.  That will require that you...
Make a plan.  I would suggest you and your Trailmen sketch out some ideas of what you'd like the shape of your cars to be after fabrication...that way you can maximize your time in the woodshop.
Show up at your scheduled time ready to work.  Note— the woodshop is in the rear of the campus...arrive a few minutes early to your scheduled slot so you are ready with your patrol.
Arrival Times at Royal High School
ALPHA Patrol - 6:15 - 6:45pm
BRAVO Patrol- 6:35 - 7:05pm
CHARLIE Patrol - 6:55 - 7:25pm
DELTA Patrol - 7:15 - 7:45pm
ECHO Patrol - 7:35 - 8:05pm
Note— we will not have a regular troop meeting otherwise on May 7th...this meeting at Royal to build our cars will supersede it.
(For those unable to make it to Royal High School to build your cars— Mr. Hornbeck has offered to open his home woodshop if you need more time or help— please contact Him for details)
Meeting location:  Royal High School, 1402 Royal Ave, Simi Valley, CA 93065
See you all tonight!
-Brian Fox
Troop Lead / Institutional Head