Trail Life Families,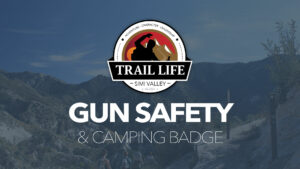 Just a reminder about our regular troop meeting TONIGHT from 6:15-8:15pm.
Woodlands Trail —Tonight is one of the most requested and favorite meetings of the entire season— Gun Safety Night. As always, our Trailmen will be given some potentially life-saving wisdom on what to do if they were to find a gun, as well as some fun games and activities— the boys are going to have a great time.
Navigators — Our Navigators will have two hands-on shelter building activities tonight as we wrap-up their Camping Badgework.
As a reminder— many of our boys who are new to the troop, or promoting in rank to a new Group will need to give their Trailman oath in-front of the entire troop. Tonight we will make opportunity for some of oru boys to give their oath publicly. To practice the Oath with your Trailman, view it in the their troop manual, or on our website: http://tlsv.org/documents/oath/
P.S. - We will also be giving each of our Trailman a special gift tonight —a pocket New Testament that will fit perfectly in their uniform pocket!
Looking forward to tonight,
Let's walk Worthy!
Brian Fox
Troop Lead