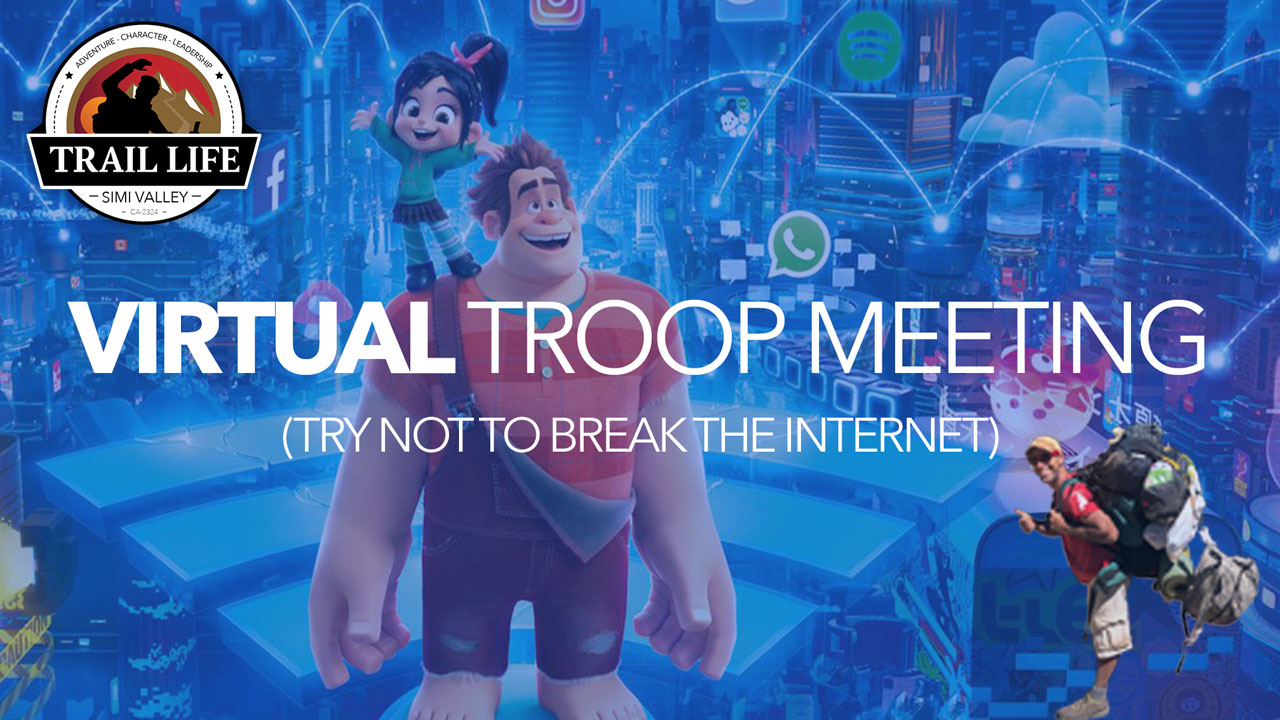 Troop Families,
I wanted to send you all another reminder about our Virtual Troop meeting tonight.  Ive had lots of questions about it, so I wanted to send you a few updates and reminders.
Meeting Schedule for Tonight
6:10pm — We will begin our "LiveStream" to our Facebook Page - https://www.facebook.com/traillifesimi/ 
6:15pm — Our Troop First officer (or other Troop Youth leader) will call our meeting to order, and will call for the pledge and Trailman Oath to be recited by Youth leaders (this will be handled digitally, but will be part of the same opening ceremony stream)
6:18pm — Our Troop leadership team (Troop-master, Chaplin and Committee Lead) will each share a few minutes with our boys about the season, and give a brief wisdom for the wild.
Remainder of Evening - After our opening ceremony, our Registered Adult Instructors will each start a "WebEx Teams" video conference with each Age Group being represented (Fox, Hawk, Mountain Lion, Navigator, and Adventurer— each has their own separate "WebEx Team" and will have their own individual Video conference teaching time.  If you've got the app installed and setup, you should receive a notification in WebEx Teams that a meeting has started.

Note: If you've got more than one Trailman at differing ages / groups, you will need more than one device to allow each boy or age to participate in their "WebEx Team" meeting.  (iPads, Computers and Phones are all capable of this)
Attendance will be taken |  Each group will take attendance for who is logged in and participating— and this will count as a meeting attendance for Step Tracking (woodlands), and towards badge completion for our Navigators/Adventurers.
Leaders will lead each age group in a 20-30 minute discussion and meeting time for the Trailmen to interact and learn— and at the conclusion of that time, our troop meeting will be concluded.
Please setup your WebEx teams account ASAP
I've invited a parent (or both) for each Trailman to WebEx teams...and this is not just a simple meeting invite.  Many are familiar with Zoom or even WebEx meetings— and this is similar by different.  WebEx Teams is a persistent environment for chat and video conferencing, so please do not wait until the meeting time to setup your login information.  You will need to setup your login to WebEx teams, and I'd recommend downloading the WebEx Teams app for your computer, phone or tablet (though you can view it from the web  browser too)  Look for an email that says "Brian Fox invited you to Cisco Webex Teams" to setup your login for WebEx Teams. Parents with more than one child (in different age groups) have been added to all relevant teams.
Login today before our meeting, and let us know you've logged in by leaving a Message in the General chat room.
If you have problems logging in, or cant locate the invite email, please reply to this email BEFORE our meeting time so we can help you (after our meeting starts, we wont be able to help you as we'll be participating in the meeting!)
We're looking forward to having our Trailmen all connect tonight through technology....see you all at 6:15pm!
Pastor Brian Fox
Troop Lead