Earning the Troop Standard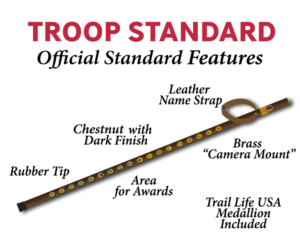 Earning the Official Troop Standard is a giant accomplishment for our Navigator and Adventurer trailmen. The Trail Life USA Troop Standard is an official part of the Trail Life USA uniform designed and manufactured to hold all Trail Life USA advancements for Navigators and Adventurers. Other standards may be used for non-advancement type medallions like those purchased from national or state parks. Trail Life USA advancements should not be placed on other standards.
As a troop, we've set the following requirements for a Trailman to earn their Troop Standard— upon completion of which— Trailman will earn and be awarded their Troop standard:
Complete at least 3 Total Trail Badges
Complete 1 Service Star (15 hours community service)
Complete one year as a Recruit with our Troop
Regular Troop participation of at least 60% attendance
Participate in 4 Troop Activities (Hit the Trails, Camps, etc)
Complete the Trailmaster Board of Review
For progress on your Trailman's achievement through these requirements, please see your Patrol leader, or Troopmaster.