Troop Uniform and Guidelines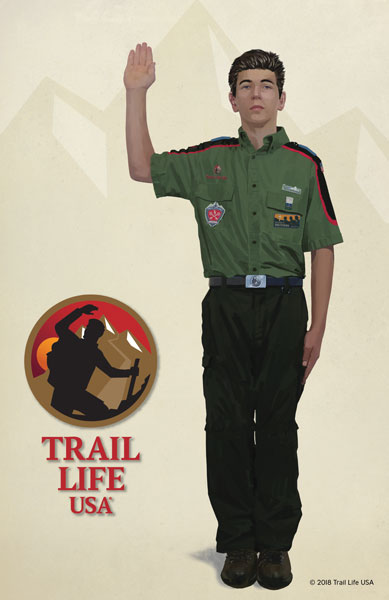 A crisp unique uniform goes a long way in establishing a culture and creating identity within an organization.  A Trailman is proud to display is uniform and achievements.
An official Trail Life USA uniform is required for all troop meetings and regional meetings (Active wear is appropriate for Hit the Trail activities and Camping Trips).  Below are the Trail Life USA guidelines for uniform wear, as well as insignia and badge placement.
Uniform Requirements:
As a Local troop, we require a Trailman to wear the following as part of the troop uniform: a Troop Uniform Shirt, Olive Green Shorts or Pants, & Uniform Shoulder Loops. Optionally boys may wear a Troop Uniform belt, socks, and Hat...but these are optional accessories.
For pants and shorts, several options exist, and you must be aware that the Troop Uniforms offered through TLUSA come un-hemmed and will require hemming before usage. The below referenced links are for reference only, and may break as TLUSA updates the store or items in it, feel free to search directly on the Trail Life USA Store if these links appear broken.
NOTE:  For Hit the Trail Events, and campouts, we do not require Trailmen to wear a troop uniform. Trail Life does have Official Travel Polo Shirts and T-Shirts for Woodlands Trail, Navigators and Adventurers that can be worn, but are not required.  For a full list of Official Troop Merchandise and shirts visit the Uniform page. 
UNIFORM BADGE PLACEMENT:
Trailman's Right pocket (From the front it's the left side under the Trail Life Logo—see photo above)— hang the patches from the Right Front Pocket flap button:
Woodlands Trail: Current Level Branch Patch (Fox, Hawk, ML) OR Forest Award (once earned)

Branch Pins are pinned to the Branch Patch,  Sylvan Stars pinned to the Forest award

Navigator Rank  (Recruit, Able, Ready)
Adventurers Rank/Awards (Journey, Horizon, Freedom)
Trailman's Left pocket— If desired, hang these patches from the left pocket flap button:
Previous woodlands trail branch patches or forest award
Navigators/Adventures Discipleship Program Participation Patches
Trail Life Activity or Collected Patch
Pin the following to the left pocket flap:
Worthy Life Award
Religious Recognition
If earned, the Mountain Lion Timberline Award is sewn (or pinned -if so equipped) above the left pocket (on the side opposite the Trail Life Logo)
Right Sleeve— sew the Troop Numeral and State patch (Provided by the troop) on the sleeve, 1/4" below the shoulder seam.
Shoulder Loops— Slide the appropriate Shoulder loops for your program /leadership position on the shirt sleeve epaulette bars.
Above left pocket— If earned- sew the Mountain Lion Timberline Patch centered above the left pocket
Leadership Rank Insignia— for all youth leadership positions, pin the appropriate rank insignia onto the Collar to designate rank (1st Officer, 2nd Officer, Patrol Leader, etc).
NOTE:  Additional Patches or awards received during Hit the Trails, Camps or Events are not part of the official uniform guidelines, and should not be worn on the uniform, or attached to the uniform or standard.  They can be sewn onto a Bag, or other garment for the Trailman to carry.
Troop Standard | For Navigators and Adventurers who have earned their "Troop Standard", all required badges / awards and service stars will be nailed to their standard, while Elective badges will hang from the standard.  (Upon earning their troop Standard, Trailmen are  given instructions on badge spacing and placement on the Troop Standard.
You can order uniforms directly from the Trail Life USA online store here.