Troop Uniform and Guidelines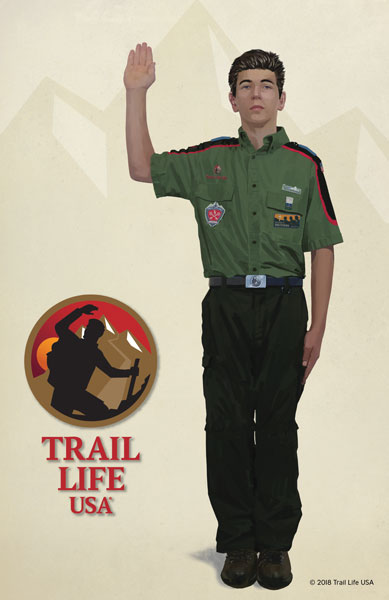 A crisp unique uniform goes a long way in establishing a culture and creating identity within an organization.  A Trailman is proud to display is uniform and achievements.
An official Trail Life USA uniform is required for all troop meetings and regional meetings (Active wear is appropriate for Hit the Trail activities and Camping Trips).  Below are the Trail Life USA guidelines for uniform wear, as well as insignia and badge placement.
Uniform Requirements:
Rip Stop Switchback Cargo Zip Off Pants (Or similar color replacement)
Troop Number Patch (provided by Troop)
OPTIONAL ITEMS

There is no official Uniform Hat, though a TLUSA uniform hat can be worn.  (Currently discontinued)
The main uniform, ordering page is here.
BADGE PLACEMENT:
Right pocket— hang thee patches from the Right Front Pocket flap button:
Woodlands Trail Current Level (Fox, Hawk, ML) Branch Patch OR Forest Award (once earned)
Navigator Rank
Adventurers Award
Left pocket— If desired, hang these patches from the left pocket flap button:
Previous woodlands trail branch patches or forest award
Navigators/Adventures Discipleship Program Participation Patches
Trail Life Activity or Collected Patch
Pin the following to the left pocket flap:
Worthy Life Award
Religious Recognition
SEW: a Vanguard Award Patch to the Left flap
Right Sleeve— sew the Troop Numeral and State patch (Provided by the troop) on the sleeve, 1/4" below the shoulder seam.
Shoulder Loops— Slide the appropriate Shoulder loops for your program /leadership position on the shirt sleeve epaulette bars.
Above left pocket— If earned- sew the Mountain Lion Timberline Patch centered above the left pocket
You can order uniforms directly from the Trail Life USA online store here.