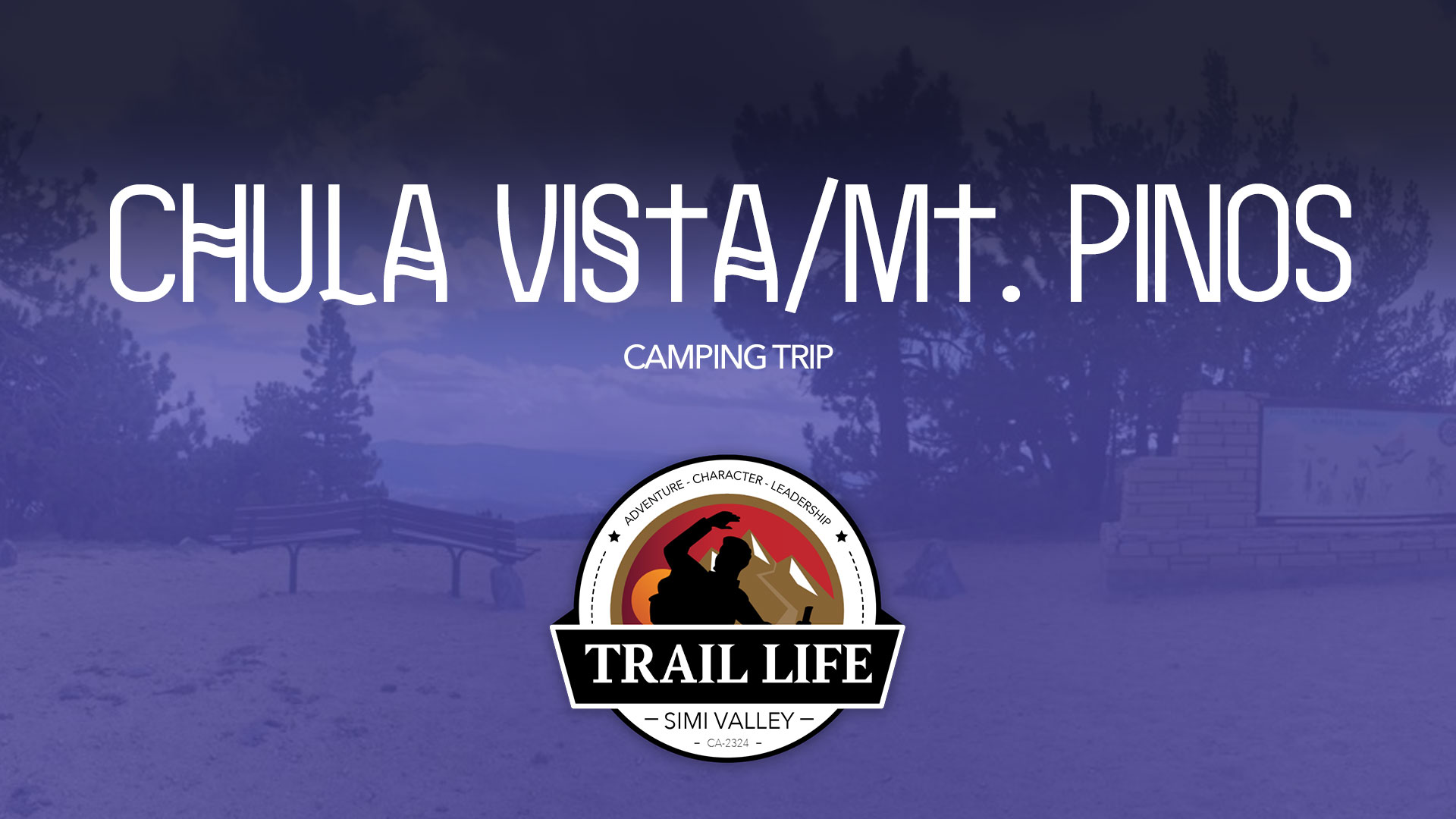 Camping Trip: Chula Vista @ Mt. Piños
Join us for a free "car" camping trip on the top of Mt. Pinos at the Chula Vista Campground.  While the parking is about 100 yards from the campsites, this is still a very approachable camping experience for our Trailmen.
How our camping trips work.
As with all of our camping trips, we will have two "waves" of campers joining us.  A "Thursday, Friday, Satuday" group and a "Friday, Saturday, Sunday" group.   We have these two offerings to allow flexibility of Trailmen and Dad's to join us when they are available.  The WHY is this— we've found a much better camping experience on Thursday and Friday evenings...and while it does require boys and dads to take some time off, we feel it will give a much better camping experience without the crowds of people, with the ability to get back in time for church services on Sunday morning.  If that is not an option, many of our dad's come Friday and Saturday evening as well.  When RSVP'ing we will always ask which group you'll be joining.
About this trip:
We've got a few different types of camping trips scheduled for the season.   All inclusive camping trips with food and campsites included for a fixed cost, A bit more unstructured camps with food on your own and camping arrangements made by the troop, and finally Completely "free" camping / backpacking trips where we hike in and find our own spaces to camp for the evening.  Our "Chula Vista Camp @ Mt. Piños" is going to be a bit of the last two options.  While official camp-sites are available, this is a FREE, "Walk in" campsite that does not require payment.  Several of our dad's scouted this location out last year, and though it is considered "car camping" the parking area is about 5-600 yards away from the campsites— so plan accordingly with your equipment!   There is no cost for this camp-out, but you will be required to bring your own food, tents, and gear.  As usual, we will have some dad's that choose to come up the mountain for "Thursday & Friday nights" and leaving on Saturday, and others that will want to come Friday & Saturday nights (leaving on Sunday).  Or some portion thereof.  We're trying to get a headcount of WHO IS IN for what days/nights— so please fill out the form on the Event page so we can know to count you in!
Register for this trip / RSVP