NAVIGATOR PARENTS ONLY,
Navigators will be having a special Aquatics Hit the Trail tomorrow afternoon (Sunday, September 29th)— and in it your Trailman should be able to earn His Aquatics Badge.  (Note— if your Navigator has already completed this badge, He can skip the meeting, or come to support the other Trailmen).  (again if your Trailman is in the Woodlands Trail— K-5th, this hit the trail does not apply)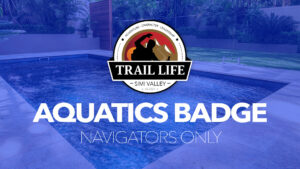 Details:
We will meet from 2-4pm and will need every minute, so please arrive a bit early, and dressed and ready to jump into the water.
We will be meeting at a private Pool in Simi Valley (address below):
3462 Big Springs Ave
Simi Valley CA 93063
United States
What to bring:
Pants, Shoes, Swimsuit (details below)
Towel
We are asking all Trailmen to bring the following:  A swimsuit to be worn UNDERNEATH a pair of pants, with shoes and socks that are able to get wet.  (We will be practicing a water survival practice of Inflating the pants as a flotation device— so the Trailmen will need to at least attempt this practice by jumping in fully clothed and removing their pants as a flotation device (Which is why we want their swimsuit UNDER their pants 😉  Details and a video of this process is here:  http://tlsv.org/documents/inflate-shirt-and-pants/
See all you Navigators at the Pool-side tomorrow!
Brian Fox
Troop Lead