Trail Life Families,
Our world has changed dramatically since our last meeting in early March….and as we've been observing and keeping an eye on the developments as it relates to Trail Life, I wanted to give you an update.  We cancelled our end of March meeting due to the COVID-19 Social distancing guidelines set by the Federal and State governments, and had initially hoped that we'd be able to reconvene in April. Obviously this situation has changed and grown, and we will not be able to meet in person until at least May (and potentially not even then).  We have two planned "Virtual Troop Meetings" scheduled for the remainder of April—
Next Week, Tuesday April 14th @ 6:15pm
The following Tuesday, April 21st at 6:15pm
---
Woodlands Trail:  Family Home Activities (FHA)
Each one of our woodlands Trailmen has received a "Woodlands Trail Guide" book as part of him joining the troop.  This guide includes several "Family Home Activities" (FHA) that a Trailman can do at home with family to offset an absence with some activity done at home with family.  In a typical season, we'd allow ONE missed step to be replaced on each branch of learning (Outdoor Activities, Hobbies, etc)…but this year is certainly anything but ordinary.  While we will have two Virtual Troop meetings this month, we're allowing our Trailmen to also do additional FHAs to make up our missed meetings (Note these will only apply for the meetings we've actually missed this season, listed below)  (Note 2 FHA activities make up a missing step).
Missed meetings (or virtualized meetings)
March 17 - Meeting - Science & Technology Branch

March 29 - Hit the Trail - Science and Technology Branch

April 7 - Easter Meeting - Heritage Branch

April 21 - Meeting - Heritage Branch
---
National Backyard Campout - April 17th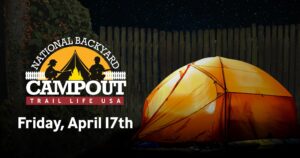 In addition to the FHA's, I want to invite each of you to participate in the Trail Life USA National Backyard Campout on Friday April 17th.  At a time when "outward bound" has become "homebound" for families across the nation, Trail Life USA is inviting America's families to take a break from their COVID-19 preoccupation and have a camping adventure in their own backyards April 17.
"Our Troops have had to hold their meetings online for the past few weeks during self-isolating," said Mark Hancock, CEO of Trail Life USA, which has more than 30,000 members in 830-plus troops across all 50 states. "But this is a time when cabin fever sets in -- and boys especially need to get outdoors in a safe environment."
While many parents will look back on this as a time of uncertainty and anxiety, it's an opportunity for boys -- and girls -- "to remember this time at home with positive memories," said Hancock, author of Let Boys be Boys and 5 Critical Needs of Boys.
Participation in this event will count as an official Troop Camping Trip for Woodlands, Navigators and Adventurers!  (And can be applied to whichever branch is needing a make-up step)
---
Virtual Meetings and Meetups
Lastly, though we can't meet in person this month— we'd like to have a few virtual meetings on two Tuesday nights— that you can participate in from your home.  We will have a few announcements, Pledge and Oath, and then we will have several breakouts for each of our Age groups (Foxes,  Hawks,  Mountain Lions, Navigators and Adventurers) to have an opportunity to connect with their fellow Trailmen virtually after our opening session in WebEx Team break-out sessions.  Each of these will be led by one of our Trail Guides.
Dates for Virtual meetings:
Virual meetings will be shorter than our usual troop meetings— with a virtual opening ceremony streamed to our Troop Facebook Page—(https://www.facebook.com/traillifesimi/  (No facebook account is required to watch)   This opening section, though virtual will look like our regular troop meeting, with Pledge, Trailman Oath, and opening Prayer led by Trailmen, Wisdom for the Wild, and Announcements.  We will then break into breakout groups on Webex for a 30 minute Webex Team time.  (Trail Guides will take attendance and have a brief lesson on one of our subjects.)
Please look for an email from CIsco Webex Teams too— as each registered Trailman parent has been emailed an invite to to Join the "Webex Team" for their Trailman's group (Fox, Hawk, Mountain Lion, Nav, Adv).  These will allow our Trail Guides and leaders to facilitate our meetings.  Note— if you have multiple Trailmen in different groups— you may be added to multiple "Teams"
Let's continue to Walk Worthy!
Pastor Brian, Troopmaster Alex & Committee Lead Ryan